Bianco Bianchi
Workshop. Manufactoring and restoration of tables and panels of scagliola
In the Bianco Bianchi Workshop, active since the nineteen-sixties, Alessandro and Elisabetta Bianchi, inspired by the same passion and constant spirit of research and aided by their valid collaborators, create works in scagliola, of both traditional and modern inspiration.

Using the most genuine artisan techniques the designs are prepared with great care, the marble or "wall" support is prepared and the slabs incised, the colors to be applied to the slab are chosen according to the original design, and the work proceeds until the final phase of polishing. The Bianco Bianchi Workshop produces tables, panels, paintings, borders, decorative objects and other design elements.

The tables are created in various shapes and sizes and the Workshop fills commissions from all over the world. The Workshop also collaborates with important architects, creating interior decorations and a vast array of art objects which blend with both traditional and modern interiors.The Workshop designs and creates "personalized" works to fill the specific needs of our clients.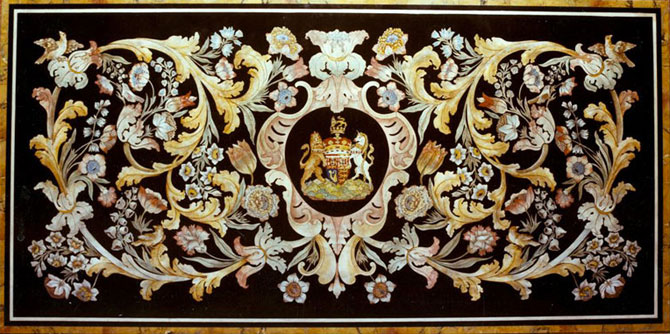 Table top 'English Royal Family', Private collection - Kensington Palace London
The technique, the experience, the creative ability, the design expertise, the refined elegance of detail, and the harmonious, well-balanced choice of colors, as well as the meticulous care of execution, make the works in scagliola by Bianchi unique pieces, testimonials of an ancient art preserved to this day.
The Workshop has always carried out a separate activity of restoration, collaborating with superintendencies, museums, collectors and antique dealers.